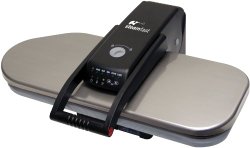 Check Price
Overview
The Steam fast SF-680 has taken digital fabric steam presses to the next level. Made from top quality materials and built for top quality results, the Steam Fast SF-680 digital fabric steam press tackles even the most stubborn creases with the utmost of ease. Designed to meet the needs of today's fast track society, this 21st century digital fabric steam press is efficiency at its best. The Teflon stainless steel plates are non stick, ensuring a smooth result without damaging the garment. The plates are also nine times larger than any other conventional digital fabric steam press Iron, making it in a category of its own. The adjustable digital settings allow for dry or steam ironing. Featuring an easy to use temperature control, this digital fabric steam press is equipped to press the most delicate of fabrics. It has a built in safety mechanism that shuts off the machine when left alone for a certain period of time, and is rust free. This two in one versatile fabric steam press is a must in every household. Its table top design enables the user to transport it from one place to another without any effort, and can be stored away efficiently without any hassle.
Features
Product dimensions: 26 x 9 x 21 inches.
Product weight: 25.6 pounds.
1350 watts of power for quick steaming.
Digital adjustable controls.
Heavy non stick Teflon stainless steel plates.
The tank hold 10 ounces of water.
Carries a limited one year warranty.
Research shows that the majority of people who have reviewed the Steam Fast SF-680 have said it is above average. The simplicity of this product is made popular by its design, allowing the user to focus their day on more important things. The fact that everything is built into the system rates the reviews higher, as it is beneficial to the user to not have to carry bottles of water around or hot water, because it's all right there in the machine.
The Steam Fast SF-680 is very popular when it comes to pressing trousers. The heavy non stick plates makes them easy to press, restricting movement and allowing the steam process to take up less of their time, making them a lot easier to press. It is however, reported by women that blouses are more difficult to press as they do not tend to lay flat. But the fact the automatic shut off alert mechanism works so efficiently seems to overrule this slight problem as this safety feature is very much appreciated by the users who have children. And Long gone are the days when the iron seemed to take forever to heat up! This digital steam press heats up quickly, a bonus in many of the reviewers eyes. Shirts are said to also be a bit more difficult to press, but it is assured however, through perseverance and patience, the end result will make the experience well worthwhile. Described by one reviewer as, 'a job well done.' Rating this digital steam press to be well worth the money. Some have said it's the best investment they have ever made! The feedback we have received from our reviewers reveal they use this steam press every single day, and even after a certain length of time, it is still working to the same quality and efficiency as it was on the day it was purchased. The overall feel from the customers who bought this product is a very happy one, and by their response they would most definitely recommend it to their friends and family.
This digital fabric steam press is sturdy, efficient, convenient , manageable and a must have in every household. It is a worthwhile investment enabling you to say goodbye to those unwanted dry cleaning bills. Along with its professional design, this digital steam press brings with it the quality of a professional cleaning agent with no extra costs. It's simple design can be used by all, and customers can be rest assured the Steam fast safety conscious designers have gone to great lengths to present this product to the public knowing the customers well being are of the uppermost of importance. It is fast, durable and with no hidden secrets, it does exactly what it says on the box.
Steamfast SF-680 Digital
Description:
The Steamfast SF-680 Digital is the ultimate in quick, snappy garment steaming. With a non stick coating, stainless steel body and moulded element, the quality and durability of this steamer really cannot be matched. Additionally, moisture is reduced thanks to dual action whilst the steamer is in action. Weighing a super light 22 pounds, this is the only portable garment steamer you'll ever need.
Manufactured by:
Steamfast
Product ID:
Price: