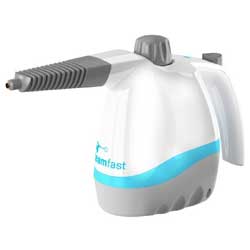 Check Price
Overview
The Steamfast SF-210 Everyday Handheld Steam Cleaner is an easy to use lightweight device which uses the power of steam to clean and sanitise a wide variety of surfaces. It completely eliminates the need to use potentially harmful chemicals and comes equipped with various attachments further extending its versatility. It is invaluable for difficult cleaning jobs in the kitchen and bathroom but is capable of much more. It can also be used as a garment steamer for crease removal and sanitisation, killing bacteria, moulds etc. By selecting the most appropriate attachment, all types of fabric can be safely steamed.
Features
The Steamfast SF-210 is a highly portable steam cleaner. Its on-board water/steam reservoir only holds 6 oz (180 ml) but this gives approximately 8 minutes steam duration. As the steam flow is operated by a push button, most people will find that they usually need to refill the tank after about 10 to 15 minutes. It is supplied with a jet nozzle, flexible extension hose, a measuring cup, a large brush, a small nylon brush and a brass brush for use where a bit more scrubbing is needed. It is rated at 900W and heating time is just 3 minutes. It measures 10.5" x 8.25" x 5.5" (266 x 210 x 140 mm), weighs 2.6 lb (1077g) and operates from a 120V 60 Hz supply.
Pros
Lightweight and easily handled.
No trailing hoses.
Button operated steam flow.
Inexpensive.
Fast heat-up time.
Cons
Small capacity and limited steaming time.
Steaming does not remove all dirt. Some additional effort may be required.
When used for garment steaming, the accessories may not be as good as those provided with purpose-made garment steamers.
Not suitable for continuous use for long periods.
Similar Products
Steam cleaners come in a vast range of sizes and prices so it is important to consider the proposed use when making comparisons. The Steamfast SF-210 is at the small end of the scale and other similar products which may be worth considering are as follows:
Eureka Enviro Steamer
Rowenta Ultra Steam DR 5020
Ingenious Design My Little Steamer NE 244
Jiffy Esteam
If the primary intended use of the steamer is in garment construction, it would be worth considering a dual purpose steamer which also functions as a pressing iron. The Steamfast SF-210 however is perfectly adequate for routine garment steaming.
Care and maintenance
As a relatively simple device, care and maintenance should pose no problems. Externally the plastic parts can simply be wiped clean with a damp cloth. In hard water areas, just as with domestic kettles, lime-scale build-up may occur in which case regular descaling would be advised. This unit comes with a one year guarantee.
Should I buy it?
When people are disappointed with their new steamer, the usual reason is that they expected too much of it. The first thing to remember is that it is a simple device and all it is designed to do is to deliver a blast of steam. It is not a pressure washer. It is not an industrial steam cleaner. It probably will not remove stains. Even after steaming, some elbow grease will be required. A hand-held steamer would obviously not be the first choice for cleaning floors or other areas requiring a long-reach nozzle. Specialised floor steamers are available. As a garment steamer, this kind of steamer will certainly freshen up clothes and remove some creasing but is unlikely to remove sharp creases probably making it unsuitable for use by a tailor but absolutely essential for anyone dealing in vintage clothes. Where it excels is in the cleaning of hard to reach crevices, especially in the kitchen and bathroom. This alone merits the inclusion of the Steamfast SF-210 Everyday Handheld Steam Cleaner in any householder's arsenal of cleaning tools. The ability to be able to clean without the use of chemicals is another plus point. In addition to making our homes healthier places to be, we are also helping the environment and saving money!
Steamfast SF-210
Description:
Light weight and portability are the keynote features of the Steamfast SF-210. With its 12.5 ft cord and user friendly design, it harnesses the qualities of pure steam to clean, de-wrinkle and freshen fabrics throughout the home. Included in the package are a range of accessories, further enhancing its capability to take on all domestic steaming needs.
Manufactured by:
Steamfast
Product ID:
Price: