Steamfast Garment Steamers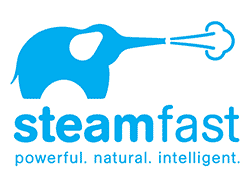 Steamfast launched their first product in 1999, and there began the legacy of Steamfast garment steamers. The company had a simple aim, and that was to extoll the virtues of steaming as a natural, pure way to clean garments and keep their products within a competitive price range. Steamfast Garment Steamers reduce the cost of cleaning and often negate the need for dry cleaning, require no chemicals and are efficient to use. This makes them an ideal addition to any home's cleaning system. However, not one product will suit all needs and steamfast have developed a range to cater for all their customer requirements.
Amongst the Steamfast garment steamers range is the compact, powerful SF-440. At 1.83lbs, this is the smallest in the range, but with a 800 watt element and a heating time of 90 seconds, it is capable of carrying out any garment steaming task. Its light weight and portability mean it can be taken to anywhere in the house.
Further up the scale is the SF-510. With an integrated and adjustable pole with hanger, it can handle the heaviest of garments and its removeable tank gives up to 50 minutes of continuous steaming, allowing plenty of time to freshen and de-wrinkle the most demanding of garments or drapes.
For that professional finish, without the need to visit the dry cleaners or use environment harming chemicals, is the SP-660 Steam Press. This high powered press penetrates in seconds with hot bursts of steam, freshening, de-wrinkling and relaxing the fibres of a variety of fabrics as well as producing razor sharp creases. This naturally safe system has seven times the pressing surface of a standard iron and adjustable fabric and temperature settings ensuring the best results every time.
There are others in the steamfast garment steamers range including the small, portable SF-717 travel steam iron, ideal for holidays; to the range topping SF-680 digital steam press for the ultimate in professional quality in your own home.
Steamfast pride themselves on providing professional, high quality steaming products at an affordable price. This has been their mantra since the first home steaming product was released in 1999. Since then each product has undergone rigorous testing before being unveiled.
With a proud and worthy reputation, Steamfast use the elephant as their logo which conjours up imagery of a powerful, natural, intelligent animal. This gives weight to the natural way that steam cleanses and freshens fabric whilst showing steaming to be the intelligent, healthy choice and symbolizes everything that the company is about.
It can be said that Steamfast have taken the home garment steaming business by storm by providing a well priced product for evey niche, at a competitive price. Their committment to steaming, and their conviction that it is the most natural way forward shows in the beautifully designed, competetively priced range of products that is on offer the public today.
Products