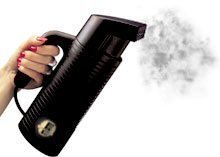 Check Price
Overview
The ESTEAM Personal Hand Held Steamer is advertised as being the most powerful hand held steamer on the planet. Ideal for either storing at home or carrying on your travels, it allows users to remove creases and wrinkles from garments without requiring an iron and is up to three times more powerful than standard hand held steamers.
Features
Designed to offer excellent durability, with a plastic high-impact outer housing, the ESTEAM Hand Held Steamer features a 600 watt heating element, enabling it to heat water in just one minute. In addition, it has an eight ounce reservoir, which results in an impressive total steam time of approximately 15 minutes per filling.
The steamer utilises tap water without salt and has an extra long nine foot power cord, both of which are strong convenience aspects of the product. Its automatic switch off feature is also useful, eliminating the risk of fire caused by overheating after the water has been used up.
Moreover, despite its durable construction, the steamer is extremely lightweight, weighing in at just two pounds. This ensures that it is easy to carry around, or to pack into a suitcase without worrying about your baggage allowance, and also makes it easy to hold and operate.
Dimensions: 3 inches x 5 inches x 10 ½ inches
Electrical Certifications: UL, cUL, TUV/GS, CE, NOM and ANCE
Pros
Extremely powerful when compared to other garment steamers on the market
Able to turn water into steam in just one minute
Can produce steam for up to 15 minutes per filling
Durable and lightweight, with a long power cord, offering excellent convenience
Automatic switch off feature offers great protection against fire
Utilises tap water without salt
Comes with a wide range of adapters for international use
Cons
120 volt is for North American users only
Lack of an on/off switch means it still uses up steam even when the user is idle
Larger than some of the other hand held garment steamers available
Similar Product Comparisons
In terms of similar products on the market, the Rowenta DR5015 Ultra Steambrush is less powerful in terms of steam production, is larger in size and is less durable. However, a plus point over the ESTEAM Personal Hand Held Steamer is a range of steam control buttons, including an on/off switch, which saves water when idle.
The Samsonite Travel Garment Steamer offers built-in dual voltage capability and is both smaller and lighter, which is a huge positive in terms of travelling, especially overseas. However, it is significantly less powerful than the ESTEAM Personal Hand Held Steamer and requires more regular re-fills when steaming a large number of garments.
Finally, the Steamfast SF-435 Compact Fabric Steamer is significantly smaller than the ESTEAM Steamer, contains the same size reservoir and is cheaper in price. However, it produces 12 minutes of continuous steaming, compared to the ESTEAM's 15 minutes and many users report significant water leakage during use.
As a result, the ESTEAM Personal Steamer is widely considered to be one of the best products of its kind on the market, performing well in comparison to its major rivals.
Care and Maintenance
When it comes to care and maintenance of the product, the ESTEAM Personal Hand Held Steamer is easy to look after and requires little in the way of special care thanks to its excellent durability. It can be easily kept in its original packaging, or separately in a cupboard or other dedicated storage area in your home or office.
After use, the device simply needs to be unplugged and left to cool for a few minutes before any remaining water is emptied. Furthermore, the steamer is sold with a three year warranty, providing peace of mind.
Should I Buy It?
Offering great durability and up to three times more power than standard hand held garment steamers on the market, the ESTEAM Hand Held Steamer is a quality product, which produces an excellent performance. It is easy to use, safe and requires tap water alone, with no salt or other additives.
Although it is slightly larger than some of its competitors and the price is higher than many, it remains compact and lightweight enough to be useful for travel and comes with an array of travel adapters, ensuring overseas use is possible. Therefore, it is a good purchase, offering a solid combination of reliability, safety, durability and function.
Jiffy Personal Hand Held Steamer
Description:
The Esteam personal hand held steamer is powered by 120 volts and offers an impressive 600-watt heating element. Water can be heated in only 15 minutes and it is up to three times more powerful than similar garment steamers currently on the market. This steamer is ideally suited for travel purposes and the unit is backed up with a standard three-year warranty.
Model:
Personal Hand Held Steamer
Product ID:
Price: