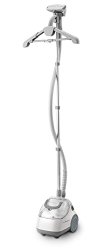 Check Price
Overview
Garment steaming is a fantastic alternative to ironing. Instead of flattening fibres, steaming relaxes them, making it gentler and more efficient than ironing. The PurSteam Elite Garment Steamer is one of the most popular models on the market. Boasting a rapid heat-up time, powerful steam output and durable build, it also comes with an impressive five-year warranty and money-back guarantee.
Features
The PurSteam Elite Garment Steamer has a capacity of just under two litres, providing one hour of continuous steaming. As garment steaming is much quicker than ironing, this is plenty of time, and should be sufficient to tackle two average sized baskets of laundry. Heat-up time is forty-five seconds, so there's no hanging around to get started. With a heat rating of one hundred and twenty degrees Celsius, the steam generated penetrates deeply into fabrics and eliminates creases instantly. The steam is released via a plastic steaming head, which is attached to the base by a flexible hose. There is a pole that the head clips onto when not in use.
Garment steamers are designed to freshen textiles and kill bacteria, and this example does not disappoint. The powerful PurSteam Elite can be used on all fabrics, whether they are heavy or delicate, and it kills 99.9 per cent of germs. The heating element is constructed from cast aluminium for efficiency and durability, and there are wheels on the base for easy movement. PurSteam offers a five-year warranty and a money back guarantee.
Pros
The heavy duty PurSteam Elite Garment Steamer is well designed and produces a good output of steam. The tank holds a large amount of water and the heat-up time is very quick. The product is easy and safe to use, and its compact design means it is convenient to travel with. The steaming head is lightweight and is connected to the base by a flexible hose. When not in use, the head attaches to the top of a pole. Also atop this pole is a convenient clothes hanger. While customer reviews are excellent and few problems reported, when a problem does arise, PurSteam Customer Services are reputed to be diligent and committed in rectifying any issues.
Cons
Some areas that customers have been disappointed in include the overall build quality. The hose is said to be a little flimsy and easy to dent, and the wheels don't always roll properly. Other complaints include the spitting of hot water and inconsistent steam power. Customers have expressed that there is less steam power the lower down the device is used. Therefore, when garments are hung on the integrated hanger, the bottom is too low for the power to be sufficient. The pole should be taller or adjustable so that the same volume of steam is dispensed when the bottom of the garment is reached. The lack of automatic power-off is another concern.
Similar Product Comparisons
Alongside the PurSteam Elite, the J-2000 Jiffy Garment Steamer is another popular model. Its water tank has a capacity of over three litres, and this provides an hour and a half of continuous steaming. Like the PurSteam Elite, the J-2000 has a flexible hose with plastic head. The J-2000 has four castors, and because they swivel, moving around is really easy. Heat-up time is longer than the PurSteam Elite at two minutes, and the price tag is also higher, typically costing around double the price. The Conair GS28 Garment Steamer is very similar to the PurSteam Elite. It has a quick heat-up time of forty-five seconds and it has an integrated hanger for convenience. Like the J-2000, the Conair GS28 provides ninety minutes of continuous steaming, and it has the additional feature of a pause button. The Conair GS28 is typically priced a little lower than the PurSteam Elite.
Care and Maintenance
The PurSteam Elite is so efficient it can even be utilised for light commercial use, and as such it is designed with durability in mind. Because of this, there is no maintenance required other than occasional cleaning. If the garment steamer gets dusty, it is easy to clean with a soft cloth or kitchen towels. Its five-year warranty gives piece of mind in the unlikely event of something going wrong.
Should I buy it?
Yes! The PurSteam Elite Garment Steamer is a great choice for everyone, from first-time users to those who made the switch from ironing years ago. The design and features make steaming simple, whether it is a basket of laundry or soft furnishings like curtains. With positive customer reviews, a five-year warranty and a competitive price point, the PurSteam Elite is a savvy choice. Additionally, the money-back guarantee demonstrates the manufacturer's confidence in the quality of the product, and means that trying out this garment steamer is completely risk-free.
PurSteam Elite Garment Steamer
Description:
The PurSteam Elite Garment Steamer is a heavy-duty fabric steamer designed for straightening out fabrics with the use of a full-length pole and hangar. It can handle all types of materials; both delicates and heavier items can be free from wrinkles in only minutes. As the stand is constructed from cast aluminium, a five-year manufacturer's warranty is offered as standard.
Manufactured by:
PurSteam
Model:
Elite Garment Steamer
Product ID:
Price: