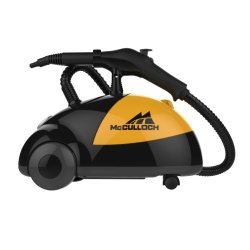 Check Price
Overview
This is a review of the McCulloch MC-1275 Heavy-Duty Steam Cleaner. The device is a robust heavy duty multi-purpose steam cleaner with an impressive 1500 watts of steaming power and a water tank which will hold up to 45 minutes worth of water. This means less hassle with running out of water at the most inconvenient time.
The product is popular in households globally mainly due to it's diverse array of accessories, so that any job, big or small can be tackled effectively and efficiently. This review is based on using the McCulloch MC-1275 for cleaning garments, and this is where it comes into it's own. Stubborn stains, tough dirt, grease and grime as removed to leave garments looking as good as before so that they can go back in your wardrobe instead of being thrown out in the trash.
Essentially for clothing it works on everyday stains that certainly I have experienced on my clothing. For instance toothpaste, soap, food to name just a few that can be eliminated by the device.
Features
Aside from it's ability to clean for up to 45 minutes after just an 8 minute duration for getting up to heat and it's multitude of accessories to tackle any job, the McCulloch MC-1275 has numerous other features built in too. It's easy to use as there is a light that tells you when you are ready to steam and there are no confusing controls for pressure and temperature, due to it's self-regulating capabilities. There are no rough edges with the device which means that any surfaces that it comes into contact with remain intact and undamaged unlike other devices.
Pros
It's a really simple to use device with no confusing controls and it doesn't damage any of your surfaces. The accessories are stored in a dedicated department which means that you will never lose them. The unit is compact and lightweight so it can be stored anywhere without getting in the way. The steam lasts a very long time - at least 45 minutes. It's unique design accompanied with it's accessory selection means that it can reach all of the crevices that are normally rendered out of reach to it's competitors.
It's the little extra's that count too. For example, it comes with its own funnel and measuring cup as well as 5 nylon utility brushes for the extra tough grime, stains and dirt.
Cons
Unfortunately the quality of the accessories are what lets the device down. If they were built to the same standard, then it would be leaps and bounds ahead of it's competitors. The other thing that can be frustrating is that there is no water indicator to inform you of how much is left in the tank, and therefore you could run out of steam with no warning at all, although as mentioned in the 'Pros' section, it can last for up to 45 minutes on a single tank.
Similar Product Comparisons
By comparison to other products in the Heavy-Duty Steam Cleaner marketplace, the McCulloch MC-1275 more than holds it's own. The weight of the device and it's size make it one of the smaller models which has the benefits when it comes to storage. Unlike other products that are of a similar size, the MC-1275 doesn't let the user down when it comes to power, and posts an impressive 1500 watts of steaming capability.
Surprisingly the price tag associated with the product is very affordable to the extent that it could be found in the households of students through to the rich and famous. Perhaps the limited 1 year warranty is the reason for the low initial outlay - most devices in the category will normally offer a 2 year comprehensive plan. There again, the customer support is second to none, so if you are unsure then don't hesitate to contact them.
Care and Maintenance
Simply, just make sure you read the instructions, don't use any chemicals that will damage the device and your garments. Clean after each use, which is simple due to it's design, but ensure that the device has cooled down before attempting to do so. If a fault appears then consult the troubleshooting section in the manual and if the answer isn't there then contact the support team for your answer.
Should I buy it?
The McCulloch MC-1275 punches over its weight for a Heavy-Duty Steam Cleaner. It's design coupled with the accessories plus the affordable price tag make it a very good fit for any household.
McCulloch MC-1275
Description:
Are you in need of an easy yet cost effective solution to always looking crisp and wrinkle free? Then you will love our highly popular McCulloch MC-1275 Garment Steamer that is capable of achieving perfect results to de-wrinkle your fabrics, as well as killing any dust mites and bedbugs.
Manufactured by:
McCulloch
Product ID:
Price: