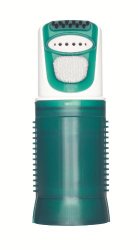 Check Price
Overview
The Travel Smart garment steamer from Conair is a portable steam cleaning unit for use at both home away. It's been designed with mobility in mind and for individuals who want to keep their clothes looking great even if on holiday or a business trip. Conair are also renowned for producing some of the most durable and innovative products on the market.
Key Features
The Travel Smart steam cleaner offers users a way to clean and remove creases from garments just about anywhere, while the dual voltage system allows the unit to also be used worldwide; which makes it a wonderful travel companion. As you would expect from any portable machine, it's extremely lightweight and just the right size to handle effectively.
Once the unit has sufficiently heated-up and ready to go, users can then continuously steam garments for up to 10 minutes. This should be more than enough time to adequately freshen up and remove all creases from a number of garments. Due to its portability, the unit can steam garments in just about any angle allowing users access to tough to reach areas easily. There are two attachments also included with the unit, which are the bristle and lint brushes.
This handy portable garment steamer has been carefully designed to ensure usability, whilst also retaining much of the functionality from larger units. There are a number of positives and negatives that afflict all products and we'll be discussing what those points exactly are.
Pros
For it's size and design it manages to freshen and remove odours as well as iron a wide variety of clothes very effectively. Due to the unit outputting 400 watts, it heats up pretty quickly. Therefore, allowing users to commence the steaming of garments within around just 2 minutes.
Great care and thought has gone into how this product is stored. For example, when it's not in use or being packed away, the handle can further compact the unit by folding flat into the cavity of the steamer. Refilling the tank has also been designed with simplicity in mind. It's very easy to refill the water tank so that steaming can be continued relatively quickly and without much time wasted.
This steam cleaner also comes with its own vinyl case. This is an extremely vital piece of equipment as it allows the steamer to be packed away without the worry of excess water dripping onto the contents of the suitcase as well as protecting the unit.
Small size: 4.5 x 4.5 x 9 inches
Light weight at only 1 pound
Compact design
Automatic voltage switcher
Heats up within 2 minutes
Continuous steaming for 10 minutes
Cons
There are just a few cons to the Travel Smart, and they are really just some design flaws. As with most steam cleaning unit, users have to take care not to place hands or anything in the way of the jets of steam the machine outputs as this could potentially cause burns.
Sometimes just one fill of the water tank isn't enough to get everything done. This is where a major design problem arises. When refilling the water tank in this type of situation, the top of the unit does become a little hot and requires some sort of protection to remove the cap to refill.
Refill tank become hot after use
The cord is a little short
Steamer head isn't wide enough
Product Comparisons
Considering that it isn't designed to be as robust as some of the more pricey versions of garment steamers, it does manage to hold up pretty well in terms of results. Where the unit has been condensed compared to many other steam cleaners, it does obviously have some limitations. Although, when compared with other portable steam cleaning units such as the Samsonite, it does out-perform it in many aspects.
When compared, the Travel Smart heats up slightly faster and produces more stable and continuous steam even when the water tank is almost empty. Although, the Samsonite does benefit from being slightly smaller in size and also a little lighter, although those stats are negligible to say the least.
Care and Maintenance
Regular care and maintenance will be required to keep your steam cleaner at its best, especially if the product is used on a regular basis. Care should be taken on the head of the steamer, where dust and other particles can get caught within the bristles. If any debris is discovered on the bristles it needs to be removed. Always ensure the water tank is emptied after each use, and then allowed it to air dry.
Further care instructions are available from within the manual of the product. Following the care instructions will also ensure the longevity as well as maintaining the performance of the unit.
Should I Purchase it?
If you're looking for a handy little garment steamer that has been specifically designed with portability in mind, then this would be a great choice. It can be taken and used literally everywhere in the world thanks to its dual voltage function. For it's size and specifications, it does an extremely good job at steam cleaning.
Keeping everything simple for the user has been one of the key benefits of this product and great results can be produced very quickly and easily. Therefore, quick steaming of garments can be achieved with this product, so you can be ready to go in minutes.
Other redeeming features include the extremely affordable price tag, which makes this product especially enticing. The Travel Smart really lives up to its name. It's small, light and very powerful, while the dual voltage automatically shifts depending on what is required. Overall, a very solid choice for people looking for an effective and very compact steam cleaning unit that produces great results at both home and abroad.
Conair Travel Smart
Description:
If you're travelling for business or pleasure the Conair Travel Smart steamer is a portable garment steamer you can pop into your luggage and this way you'll ensure your garments all look their best. Steam pressing your clothing is an easy way to remove creases from any fabrics and you'll feel much better at any occasion when your clothes look great.
Product ID:
Price: