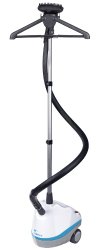 Check Price
Overview
The Steamfast SF-510 Fabric Steamer gives you the fantastic benefits of chemical-free steam cleaning throughout your home and laundry pile, without a hefty price tag. It is the ideal companion for cleaning and deodorizing fabrics such as curtains, sofas, cushions or bedding around your home and also for getting those wrinkles out of those clothes on your laundry pile. Indeed, the hot steam from this fabric steamer penetrates so deep into the fabrics of your laundry items that it can release wrinkles much quicker than an iron, whilst also freshening your laundry at the same time. Imagine never having to stand over an ironing board again, or being able to quickly and easily give your curtains or rugs a quick freshen-up without the use of chemicals. If this sounds like bliss, then this Steamfast model could be for you.
Features
The SteamFast SF-510 Fabric Steamer has a 46 oz water capacity, giving a steam time of 50 minutes and a heat up time of 45 seconds, making fast work of the laundry pile. Other features of the fabric steamer include:
A detachable and adjustable telescopic pole, ensuring that you can use the cleaner at the optimal height for your comfort whilst also allowing you to adjust for storage
An attachable fabric brush which allows users to easily brush away any stray hairs or bits of lint that they might find when steaming laundry items
A clothes hanger attached to the cleaner which allows for garments to be positioned perfectly for steaming but also collapses down for easy storage of the fabric steamer
A removable 46 oz capacity water tank, which makes for easy filling and emptying
A cord management system which makes for easy storage and also features storage space for small accessories
Large wheels on the back of the steamer which make it easy to manoeuvre the unit as you need
Pros
The Steamfast SF-510 Fabric Steamer really seems to do the job that it is intended for and at a very reasonable price. Indeed, some customers liken the results that the unit can achieve to laundry items that have had the benefit of visiting a professional dry cleaning service. Many customers have also commented that the unit is incredibly speedy at removing wrinkles, making laundry an easier and quicker job than using an iron. It is also more delicate on fabrics than a conventional iron, reducing the wear and tear on those precious items in your wardrobe. More positive comments about the fabric steamer confirm that it can handle even heavy garments such as suit jackets or coats with ease, with them resting well on the coat hanger provided as part of the unit, whilst other customers comment on the potentiality to save money on laundry with use of the unit as garments can be refreshed between wears rather than needing to be washed each time. The unit is also easy to set up and does not take up much storage room when not in use. The main thing, however is that most customers seem to be in agreement that the unit fulfils its main purposes, namely that it heats up quickly and produces lots of steam.
Cons
Many customers have commented on the flimsy feel of the fabric steamer, although it seems that this does not affect the stability of the machine too much, and customers still seem to be happy that it produces the results they expected. Some customers have also found that the unit doesn't remove wrinkles from heavy fabrics very easily, although it seems that removal of creases in this type of fabric can be achieved with a little hard work on the part of the user. Customers have also warned of the need to be careful when using the unit so as to avoid steaming yourself, a sign that the fabric steamer is good at producing steam and can therefore breeze through your laundry pile perhaps?
Similar Product Comparisons
Steamfast make a few different fabric steamers in a similar price range to the SF-510. The SF-407 for instance, is similar but with slightly less water capacity and therefore steaming time. Alternatively, you could spend a bit more and purchase the deluxe SF-540 model which offers a massive 80 minutes steaming time. This model also features a one way steam valve which promises to give a smoother steam flow with reduced condensation and water drips. If you wanted to consider a different brand you could look at the HomCom Deluxe 101 ounce, the Epica 1500 W or the Conair models as they all offer similar features and seem to perform well in customer reviews.
Care and Maintenance
Steamfast recommend that you use distilled or de-mineralised water when using this fabric steamer as the high mineral content present in most domestic water can build up in the machine causing damage. If using distilled water is not possible it is acceptable to use normal tap water but the user would need to ensure that they de-mineralise the unit every 30-40 uses with SteamFast Lemon Acid. The product comes with 1 years warranty and extra parts such as the fabric brush or hanger can be ordered directly from Steamfast if needed.
Should I buy it?
If you are tired of ironing, fed up of expensive dry cleaning bills or want a way to ensure your clothes are well cleaned without the need for chemicals then yes, a fabric steamer is perfect for you. In terms of this particular model, it performs as well as any others, both those offered by Steamfast and models offered by different brands, in reviews and all in all most customers seem to be very happy with it. The price is also extremely reasonable when compared with other models, making this a very good purchase for a fabric steamer.
Steamfast SF-510
Description:
With a 1.5 litre tank, the Steamfast SF-510 fabric steamer reaches temperature in 45 seconds and offers continuous steam for up to 50 minutes. Gentle on fabrics, the 570 is effective in removing wrinkles and odours from most clothes, offering all natural garment care. With attachable fabric brush, clothes hanger and telescopic pole, the 510 deals with all your steaming needs with ease.
Manufactured by:
Steamfast
Product ID:
Price: