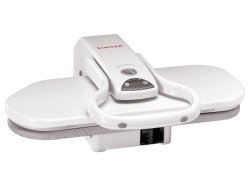 Check Price
Overview
The Singer ESP-2 Magic Steam Press is a portable tabletop garment press designed to give you rapid, professional results at home on a range of items from trousers to tablecloths. This press includes adjustable heat and steam settings for a range of garment and household fabrics, and has a an auto shut-off for the safety of you and your family. It is portable and easy to store.
Features
Accurate Electronic Fabric Temperature Settings
Variable settings from nylon to linen
Professional Results in Half the Time
Reduce ironing time by 50%!
Auto Shut-Off with Audible Alarm
Safe for you and your family
Perfect Steam Control
Control of the amount of steam emitted, even if it's none!
Extra-Large Pressing Surface
10 times larger than a conventional iron
Washable Ironing Pad
Keeps surface clean, allowing fabrics to flow smoothly
Die-Cast Aluminium Base
Easy, sturdy ironing
Easy to Read-and-Fill Water Tank
300mL water tank
Accessories provided included a Spray Bottle, Measuring Cup, and Pressing Cushion
1-Year Limited Warranty
Pros
Speed! Due to the extra large pressing area, ten times larger than a conventional iron due to the top and bottom plates, the Singer ESP-2 Magic Steam Press will whizz through your ironing pile in half the time. For example, a pair of trousers can be pressed in 4 quick moves.
This machine has Accurate Electronic Fabric Temperature Settings, with the option of variable settings from nylon to linen.
Perfect Steam Control allows you to use the perfect amount of steam for any garment (including none at all) as well as providing a powerful burst of steam at your fingertips.
The Singer ESP-2 Magic Steam Press is portable, with a locking handle, allowing you to transport the press easily.
A strong safety factor is the auto shut-off which has an audible alarm.
Cons
At 22 pounds(10 kg), while still portable, the unit is not lightweight and heavier than a household iron. However this also allows for sufficient force to be applied in use for professional results.
The alarm feature sounds after the press has been closed for 10 seconds which some users have found annoying: however, most fabrics should only require a second or two of press.
Some users have found the opening angle too shallow, so that it can be fiddly and a potential burn risk to insert items ready for pressing. All steam presses will require some practice to get the best results. Steam presses work best on large, relatively flat items. While it is possible to press parts such as collars using a press, some users prefer to use a conventional iron to complete pressing of smaller, intricate parts of a garment.
Similar Product Comparisons
Domestic steam presses are mostly very compatible in their pricing and specifications.
Other well known manufacturers of steam presses include Yamaha, Steamfast and Speedypress.
Care and Maintenance
It is recommended to use de-ionised or distiller water in the steam reservoir, particularly if you live in a hard water area. An alternative is to use the spray bottle provided in which case ordinary tap water would be perfectly fine.
Before initial use on garments, you would be sensible to run steam through using an old cloth or towel in the press in order to 'purge' the machine of any residual liquid from manufacture, which may not be 100% clean and could leave brown spots on your garments.
Should I Buy It?
The Singer brand quality reputation has endured for 160 years in the home equipment sector. If you are someone who wants to cut down the time you spend on ironing, or reduce how much you pay on using commercial services to press your garments such as work shirts and trousers, you should seriously consider investing in a steam press. Costing only a little more than a superior conventional iron, and less than many steam generator irons, with a little practice you should soon whizz through your weekly ironing. Also recommended for sewists, for pressing fabrics and during garment construction as well as applying interfacing to larger areas. A steam press is a great choice for those who suffer with bad backs, to reduce the time and labour involved in ironing. With its full range of settings and safety features, the SINGER ESP-2 Magic Steam Press is a very good choice.
Singer ESP-2 Magic Steam Press Review
Description:
The Singer ESP-2 Magic Steam Press is perfect for keeping your garments in tip top condition, so you're always dressed to impressive. You'll find your clothes appear to have received professional treatment when you press them with this useful and portable steam press, while the time you spend ironing garments is reduced to the minimum.
Model:
ESP-2 Magic Steam Press Review
Product ID:
Price: