McCulloch Garment Steamers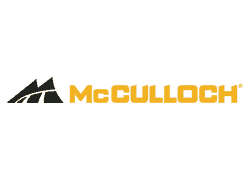 The McCulloch brand has a long history of over 60 years, spread across many facets of technology and machinery, and has been a constant innovator. Although, it was the latter part of the 90s when McCulloch began delving into the garment steam cleaning market.
Since then, McCulloch has become a pioneer of garment steamers, and have been supplying customers with versatile, yet extremely durable steaming machines. Today, McCulloch has an extensive range of garment steaming products that can be used just about anywhere and by anyone.
Strength to Strength
It was in 1999 when the first McCulloch garment steamer hit the market and was aptly named the Steamfast series. While steam cleaners in general were pretty new to the market, the Steamfast allowed consumers to freshen and iron clothing in the comfort of their homes. Due to the money and time saved, it was an instant hit with general consumers. The Steamfast line of garment steamers was expanded, while the usability of the product line has been improved over time.
The Steamfast series of McCulloch garment steamers has been designed to be easily accessible, as well as offering customers with a cost-effective way of bringing the power of professional garment steaming into everyday life.
In 2011, McCulloch envisioned the future of steam cleaning and began developing and engineering the next generation of McCulloch garment steamers. This became known as the PowerSteam series. It built upon the positives of the existing series and amplified them in every aspect.
Some of the positive additions made to the PowerSteam series was the inclusion of more capable attachments, more ergonomic design and being even more resilient and durable. Some user-friendly features were also added to improve usability such as comfort-grip handles.
Popular McCulloch Products
The McCulloch garment steamers are available in a wide variety of shapes, styles and features. The two main series offered to consumers are the PowerSteam and Steamfast series.
Steamfast SF435 compact fabric steamer
This is a hand-held unit used for garment steaming at home or away. It has a heating time of 2 minutes and can clean for up 12 minutes.
Steamfast SF407 Fabric Steamer
An upright unit that features a telescopic pole, an attachable fabric brush, removable water tank and heats up in 45 seconds with continuous cleaning for up to 45 minutes.
Steamfast SF540 Deluxe Fabric Steamer
Another upright unit that boasts many features such as easy maneuverability, telescopic pole, crease tool, clothes hanger and more. This unit is ready to go in just 45 seconds and can provide cleaning for up to 80 minutes.
PowerSteam MC1350 portable power steam cleaner
This unit has a unique backpack design and features a variable steam control and a continuous fill tank. Heat-up time takes only 30 seconds and can allow for garment steaming for up to 50 minutes.
PowerSteam MC1275 heavy duty garment steamer
Comes with a selection of 18 accessories, this professional garment cleaner allows for continuous cleaning for up to 45 minutes.
Professional Quality
The range of McCulloch garment steamers offer consumers an affordable way to produce professional quality garment cleaning at home. McCulloch boasts an extensive range of garment steaming products from portable units to the more heavy-duty kinds.
Products