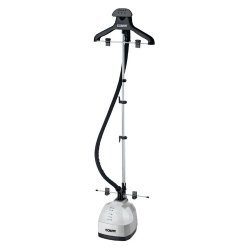 Check Price
Overview
The Conair Garment Steamer is designed to provide superior cleaning and "de-wrinkling" capabilities that are both perfectly suited for clothing items such as suits, blouses, shirts and trousers. As the garments can be freely hung over a frame, the steam can perform all of the hard work; saving the wearer valuable time as the unit does its magic. Therefore, many will consider the Conair Garment Steamer to be a must-have accessory for properly flattening clothes during any important event or simply before heading out to the office. What are some of the most unique features of this steamer?
Features
Perhaps the most interesting feature offered by this steamer is its ability to produce a full 90 minutes of continuous steam time. This is ideal for clothes that may be extremely wrinkled. It is able to heat an existing reservoir of water in no more than 45 seconds. It requires a 1500-watt power supply and the telescopic pole can be adjusted to various heights that will depend upon the type of clothing to be steamed. As this pole is construction from high-strength aluminium, it can support larger items which the entire unit is extremely lightweight. It can therefore be transported from place to place with ease. Clips for addressing the needs of trousers are built into this device and a hangar that can rotate a full 360 degrees provides an extra level of convenience. The water tank can be removed and cleaned as is necessary. It holds a significant amount of water; thus ensuring lengthy steaming times for stubborn wrinkles. Finally, a handy pause feature will enable the steamer to be powered down during the cleaning process if desired. This pause button is located on the bottom of the device and is manually controlled.
Pros
The first benefit of the Conair Garment Steamer is the fact that it is able to supply up to 90 minutes of robust steaming power. It should be noted that this time frame is significantly longer than some other units currently on the market. As it requires only 45 seconds to power up before use, the steamer is also quite effective during situations where the owner may not have a great deal of time to steam his or her clothes. A few other benefits include:
A separate t-shaped nozzle for manually steaming clothes.
The ability to wrap up the cord for quick and safe storage.
Useful wheels located on the base for quick transport.
An insulated hose that provides five feet of versatile access.
A nozzle that remains cool to the touch during use.
An one-year limited warranty.
These advantages are in addition to the primary features which have been listed above in the previous paragraph.
Cons
One of the issues that some customers have observed is that the steamer nozzle will tend to drip if it is not held above the hose. This could possibly be inconvenient when attempting to steam the base of trousers or the lower portion of a blouse. This very same hose may kink if held at certain positions. This will prevent the steam from being adequately released. Some have likewise complained that it can be difficult to clean both sides of a pair of trousers without turning the pole around (and thus, the pole will get in the way of the t-nozzle steamer). As the unit consumes 1500 watts of power, there are some who may be concerned in terms of energy costs (although this is similar to other steamers). While the pole is telescopic, those with an extremely limited amount of space may find the unit to be slightly cumbersome.
Similar Product Comparisons
In terms of steaming power, similar products will include the Smartek Sunbeam SB51W Travel Garment Steamer and the Jumble 1500-Watt Hand-Held Garment Steamer. However, it needs to be noted that neither will supply the standalone telescopic pole that is used with the Conair Garment Steamer. For those desiring this pole, and example can be the Philips DailyTouch Garment Steamer or the Singer SteamWorks Pro. Note that the Philips variety will consume 1600 watts of power; slightly higher than that required with the Conair version.
Care and Maintenance
This steamer should be stored away from any foot traffic when not in use and the pole is recommended to be lowered to prevent a potential tipping hazard. Likewise, the cord must be wrapped up into its receptacle. The only other issue could centre around the type of water that is used. Should tap water be placed into the system, hard water mineral deposits could build up over time. This can possibly cause blockages within the pumping and steaming system. A mild detergent can generally be used to remove this buildup. The detergent mixture (concentrations will vary depending upon the manufacturer) should be placed into the system and the steamer should be allowed to run as normal for approximately 30 minutes to wash out any particulate matter trapped inside. Of course, this unit should be kept out of the reach of children.
Should I Buy It?
This steamer is an ideal option for those who wish to keep their clothes free from wrinkles. Also, dust mites and other small insects can be effectively killed. This is another advantage for those who may be storing their clothes for a significant amount of time. As the power consumption is rather standard for such models, energy usage is not a real concern (in addition to the pause function mentioned earlier). Many consider this model to be one of the best on the market. Notwithstanding a few drawbacks such as a hose which could potentially kink and excess leaking at certain angles, this steamer is an excellent choice for those who enjoy wrinkle-free clothes.
Conair Ultimate Fabric Steamer
Description:
The Conair Garment Steamer is both powerful and versatile, with 1500 watts and 90 minutes of steaming time it has the capability to get the job done. Boasting a telescopic pole, rotating hangar, and pant clips this steamer can handle a variety of garments with ease.
Model:
Ultimate Fabric Steamer
Product ID:
Price: